Charter Bus Rentals to The Big Apple
Visit the city that never sleeps. If you've never been, New York City is abuzz with activity all year round. In New York City, there's no shortage of things to do, sites to see, restaurants to try, people to watch and places to visit. In Times Square (a tourist's mecca) alone, there are hundreds of activities and points of interest. Often called the "Canyon" because of the open space surrounded by soaring buildings and lights, Times Square is the most-visited tourist attraction in the world.
Bet you didn't know…
Times Square, formerly known as Longacre Square, was established in 1904 after The New York Times moved its headquarters to the newly erected Times Building or One Times Square. On December 31, 1907, the now famous annual New Year's Eve ball drop began.
Times Square has its very own Visitor's Center and Museum.
On New Year's Eve, nearly 1 million people congregate in Times Square to celebrate the Ball Drop from a pole atop the 25-story One Times Square.
The NASDAQ sign in Times Square cost more than $37 million to build and is the largest LED sign in the world.
In 2011, Times Square became 100% smoke-free.
Times Square is home to MTV's headquarters and ABC's 'Good Morning America" is broadcast in front of a live audience from its office at 44th and Broadway.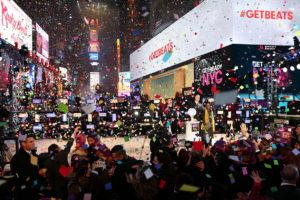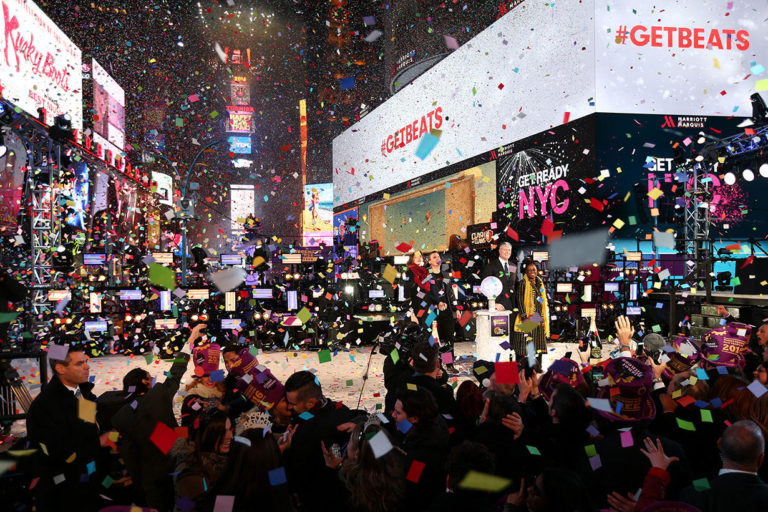 Now that you're convinced you to want to visit New York's Times Square for New Year's Eve, it's a matter of getting there. It's understandable if you don't want to drive yourself or your family – the heavy congestion is a big turnoff! Why not take the bus? It's a practical, affordable, safe and a fun way to see New York City and have a positive experience.
Atlantic Charter offers you a safe and convenient way to rent a charter bus to get to Gotham for your New Year's Eve plans. Whether you have a small or large group – or even if you're traveling by yourself to meet friends – our charter bus rentals are guaranteed to eliminate the stress. Our buses offer the following standard features:
Spacious, reclining seats
Lounge area for groups traveling together
Free Wi-Fi
AC and Heat
Clean restrooms
110V outlets for laptops, phones and gaming systems
Large storage for luggage or gifts on your way back!
Overhead storage to give you plenty of room to relax
DVD, CD and radio to stay entertained
Wheelchair accessibility
So, whether you're considering a day trip or an overnighter, Atlantic Charter can make sure your next trip to the Big Apple a Big Success. Call us today and get ready to ring in the new year!