Sports Team Charter Bus Rentals
Make Your Sports Team's Next Away Game a Home Run
We look forward to having you join us on a bus
Atlantic Coast Charters is fully equipped to handle your travel needs for your next sporting event.
Little league and professional sporting teams alike can benefit from the convenience we offer with our sports team charter bus rentals. Our buses aren't only for teams -- even sports fans can take advantage of how easy group travel can be when you book a charter bus to see your favorite sporting event!
No carpools necessary, either. Our fleet have the capacity to carry large groups of passengers and any luggage or athletic equipment. Enjoy the company of your friends or teammates with the assurance everything is transported as one unit.
Storage, Space, and Comfort for Your Sports Team with a Charter Bus
One of the most complicated parts about traveling as a sports team is storing sporting equipment. A charter bus takes the complexity out of packing your gear by providing plenty of storage space for equipment and athletic training materials.
Once your items are stored, you'll have plenty of room to sit back and enjoy your trip with lots of legroom and seating space that won't make you feel crowded (we're thinking of you, basketball players). For sports fans, feel free to pack tailgating equipment, coolers and more.
Our Fleet of Charter Buses & Amenities
Take comfort with you. Our fleet of 55-passenger, 34-passenger, and 47-passenger buses, are equipped with all the options you need on the road for a smooth ride:
Free Wi-Fi and DVD players
Air-conditioning
Reclining seats and ample leg room
Onboard restroom
Wheelchair/ADA accessibility
GPS-enabled tracking of each bus
Depending on the size of the bus you rent, you may even have room for family and friends to join you on your trip! With our fleet of buses, we can accommodate sports teams both large and small. We will work with you to find the right size bus.
We're also prepared to help you get to your sporting event once you reach your destination. We'll drop you off at the game, pick you up after earning that big "W" and make sure you arrive safely at your hotel for the night.
A charter bus or motorcoach is only as good as its driver, and each of ours have years of experience providing professional, knowledgeable, and pleasant service.
Charter Bus Driver qualifications require existing commercial driving experience with a 50-state criminal background check, previous employer check, clean work-safety history, and thorough pre-employment and random drug and alcohol screening with physical testing. Atlantic Coast Charters prides itself on keeping on staff the best of the best, and with our charter bus drivers, we know you are in competent hands.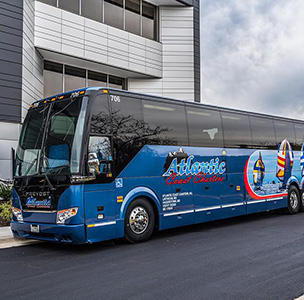 Big plans? Our fleet includes options for seating up to 55 passengers. Common uses for our charters include:
Transportation for educational school trips or visits to local landmarks
Employee shuttles or meeting and event transportation
Weddings, parties, family reunions, or bar/bat mitzvahs
Sports teams or events
Church or military transport
Conventions or political campaign tours
Winery tours
Get Your Sports Team Charter Bus Rental from Atlantic Coast Charters
Atlantic Coast Charters is a family-owned and operated company that has been serving Maryland and surrounding areas since 2010. We pride ourselves on unprecedented safety and quality service that you can rely on. Each of our drivers receive ongoing training to ensure you arrive and depart safely from our buses. They also make use of the latest technology in the industry to remain alert while driving and maintaining excellent customer service.
Stay focused on the game ahead by renting a sports team charter bus. Whether you're a coach, a player or a fan, the comfort of charter bus travel will help you preserve your energy for the big game. Contact us today to book your charter bus!