Senior Citizen Bus Trip Rentals
Easy and Convenient Senior Citizen Bus Trip Rentals
We look forward to having you join us on a bus
Looking for a charter bus service that's convenient, affordable, and accessible for everyone?
Atlantic Coast Charters would be happy to take you where you want to go. We provide safe, reliable charters for senior citizen bus trips throughout Virginia, Pennsylvania, Maryland, Delaware, and Washington D.C.
No carpools necessary, either. Our fleet have the capacity to carry large groups of passengers and any luggage. Enjoy the company of your friends with the assurance everything is transported as one unit.
Bus Amenities
Traveling as an elder can be difficult, which is why we made sure our buses have what they need to make your trip as enjoyable as possible.
Take comfort with you. Our fleet of 55-passenger, 34-passenger, and 47-passenger buses, are equipped with all the options you need on the road for a smooth ride:
Free Wi-Fi and DVD players
Air-conditioning
Reclining seats and ample legroom
Onboard restroom
Wheelchair/ADA accessibility
GPS-enabled tracking of each bus
With us, your needs are and always will be kept in mind.
Affordable Bus Trip Rental
Whether it's your first time planning a trip or you're planning on having multiple trips, we are happy to provide you with safe, reliable, and affordable transportation. Not only that, but we want to show you how much we appreciate your use of our services.
Safe Drivers for a Safe Trip
Safety is our top priority. No matter where you're going, our drivers will always be alert, aware, and safe on the road. We require each of our drivers to pass a 50-state criminal background check, previous employer check, and prove that they have a clean work-safety history.
Drug, alcohol, and physical testing are also performed before being hired and then completed again randomly during our driver's employment to ensure that no matter what, you and your friends will be in competent hands throughout your trip.
A charter bus or motorcoach is only as good as its driver, and each of ours have years of experience providing professional, knowledgeable, and pleasant service.
Charter Bus Driver qualifications require existing commercial driving experience with a 50-state criminal background check, previous employer check, clean work-safety history, and thorough pre-employment and random drug and alcohol screening with physical testing. Atlantic Coast Charters prides itself on keeping on staff the best of the best, and with our charter bus drivers, we know you are in competent hands.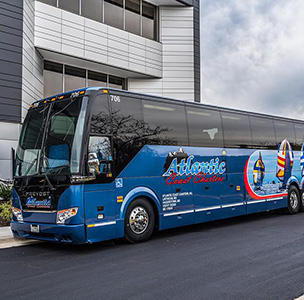 Big plans? Our fleet includes options for seating up to 55 passengers. Common uses for our charters include:
Transportation for educational school trips or visits to local landmarks
Employee shuttles or meeting and event transportation
Weddings, parties, family reunions, or bar/bat mitzvahs
Sports teams or events
Church or military transport
Conventions or political campaign tours
Winery tours
Book Your Charter Bus Rental Today
Atlantic Coast Charters wants you to be as happy on your trip as possible. All our charter buses include modern amenities, entertainment, and plenty of legroom. With us, you can sit back, relax, and enjoy the ride. 
Please contact us for any questions you may have about our services or request a quote today.