Your Last Stop for Church Bus Rentals
We look forward to having you join us on a bus
When it comes to group travel, the less you have to worry about, the better. Atlantic Coast Charters makes it easy for you to get from point A to point B, whether you're traveling one mile or 1000.
For your next church event, consider booking a charter bus with Atlantic Coast Charters. We provide safe, affordable and fun charter bus rental options that will add ease to your mission trip, youth group outing or community event.
No carpools necessary, either. Our fleet have the capacity to carry large groups of passengers and any luggage. Enjoy the company of your friends with the assurance everything is transported as one unit.
Why Choose Atlantic Coast Charters for Your Church Outing or Event?
We are family-owned and operated, which means that when you book your charter bus rental, you are interacting directly with our team and not a disconnected corporate office. Since 2010, we have been providing reliable and quality service to our customers and only hope to continue serving our local community.
For church groups that are looking for a convenient way to travel, we offer unprecedented coordination to your destination so that you can focus on socializing and enjoying your trip. Our drivers complete ongoing safety training and utilize the latest technology to ensure you arrive at your destination on time and without hassle.
Pastors and youth leaders will find that they can focus on their travel group and organizing the events of their outing rather than being responsible for transportation. Our drivers make it easy for you to have fun on the road!
Our Fleet of Charter Buses & Amenities
Take comfort with you. Our fleet of 55-passenger, 34-passenger, and 47-passenger buses, are equipped with all the options you need on the road for a smooth ride:
Free Wi-Fi and DVD players
Air-conditioning
Reclining seats and ample leg room
Onboard restroom
Wheelchair/ADA accessibility
GPS-enabled tracking of each bus
Additionally, our pick-up options are flexible, and with the amenities that we offer, it won't be hard to sit back and relax on your trip. You will have the space you need to stretch out and nap and can also take advantage of onboard entertainment that will help the time pass by quickly.
A charter bus or motorcoach is only as good as its driver, and each of ours have years of experience providing professional, knowledgeable, and pleasant service.
Charter Bus Driver qualifications require existing commercial driving experience with a 50-state criminal background check, previous employer check, clean work-safety history, and thorough pre-employment and random drug and alcohol screening with physical testing. Atlantic Coast Charters prides itself on keeping on staff the best of the best, and with our charter bus drivers, we know you are in competent hands.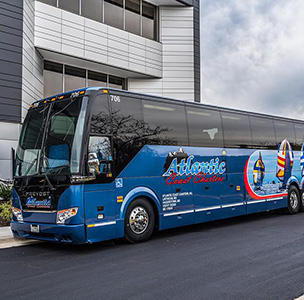 Big plans? Our fleet includes options for seating up to 55 passengers. Common uses for our charters include:
Transportation for educational school trips or visits to local landmarks
Employee shuttles or meeting and event transportation
Weddings, parties, family reunions, or bar/bat mitzvahs
Sports teams or events
Church or military transport
Conventions or political campaign tours
Winery tours
Book Your Next Church Trip with Atlantic Coast Charters
Atlantic Coast Charters accommodates everyone, including mission and youth organization that are looking for a convenient way to travel. Regardless of whether you are headed to a retreat, convention or just need a ride down the street, we're fully equipped and prepared to help you on your journey.
We make it easy for larger groups to experience long and short-distance travel so that you can focus on what's most important: your destination. Book your church bus rental with Atlantic Coast Charters today!